We are scheming to schedule gigs for 2019! If there's a venue or event where you'd like to see us play, let us know about it!
---
Upcoming Events:
Bits and Bobs Steampunk Weekend:
Saturday April 13, 2019 – Sunday April 14, 2019 – La Torre Events Venue, Inman, KS. More details coming later!
---
Past Events:
_______________2018_________________
KKFI 90.1 FM Spring 2018 Band Auction:
3:00-3:30pm Sunday April 8, 2018 – Kansas City, MO. Listen on the radio or online!
Steampunk Day at Old Cowtown:
Saturday May 26, 2018 – Wichita, KS
Lawrence Busker Festival:
5:00pm Sunday May 27, 2018 – Lawrence, KS, in front of the Granada Theater
White Hart Renaissance Festival:
Saturday June 23 – Sunday June 24, 2018 – Hartville, MO
CANCELED: Monkey Wrench Anniversary Show:
Saturday July 14, 2018 6pm – Monkey Wrench Clothing store in Kansas City, MO
Southwest Missouri Celtic Festival:
Friday September 7 – Saturday September 8, 2018 – Buffalo, MO
_______________2017_________________
We're excited to be returning to Steampunk November in Venus, Tx! (near Dallas)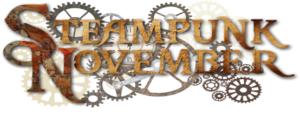 Grimm's Indie Art Fair – Saturday October 14
A unique arts and crafts faire in Kansas City. Join the Facebook event!
Southwest Missouri Celtic Festival – September 9
Looking forward to our first Celtic festival in Buffalo, Mo! Check them out here!
Monkey Wrench Clothing – Saturday Aug 5
We're back at our favorite Steampunk store in Westport! Join the Facebook event!
External Combustion Orchestra at Prospero's Books – Saturday July 29th
Right here in Kansas City! High Tea will be served! – Join the Facebook Event!
WhiteHart Renaissance Festival – June 10-11
Hartville, Mo
Old Cowtown Museum Steampunk Day – Saturday May 27
Wichita, Ks
Lawrence Busker Festival – Sunday May 28
Lawrence, KS – 4pm
Live Stream Show – Saturday April 1
We played live via Facebook. You can watch the whole thing! Just go to our page! (Don't forget to "like" us!)
External Combustion Orchestra Facebook page
_______________2016_________________
Steampunk November
We're excited to announce we'll be playing at Steampunk November in Dallas, TX! We'll be riding the robot ponies south for the longest running steampunk festival in Texas on November 11th -13th!
Monkey Wrench Clothing Halloween Gala
We'll be right here in Kansas City on October 29th at Monkey Wrench Clothing to celebrate opening their new store location! We love Halloween shows! 😀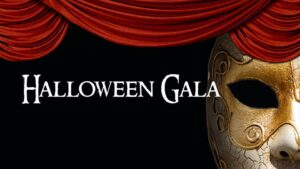 Topeka Steampunk Art Show
A Steampunk art showing in Topeka, KS on Oct 22! Join the event here!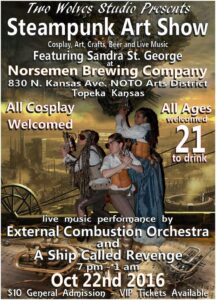 Big River Steampunk Festival
Labor Day Weekend we'll be invading the Big River Steampunk Festival in Hannibal, MO! This huge steampunk event takes over Mark Twain's hometown for a jam-packed weekend of steam-era inspired excitement. Our sensors predict we'll have a ton of fun there!
Our shows will be:
Saturday – 12:00 on the Great Midway Stage
Sunday – 12:00 on the Main Street Stage
Monday – 11:00 on the Main Street Stage
Maker Faire KC
We will be hosting a table at Maker Faire Kansas City on June 25-26 where we will demo our drum playing robot, Junkbot! Stop by to play along with the robot, see all about how he was built, and maybe hear us play a song or two!
Figments & Filaments
We're pleased to announce we'll be playing Figments & Filaments April 22-24!
Visit Figments and Filaments website!
_____________________2015______________________
Emerald City Steampunk Expo
Join us in Wichita, Kansas on Nov 20-22 when we kick off a weekend of all things Steampunk at the Emerald City Steampunk Expo! We'll be featured in the opening concert Friday night and popping in at various events throughout the weekend.
Saddle up your robot ponies and we'll see you there!
Visit Emerald City Steampunk Expo
ECO Opens for Musical Blades at Voodoo Lounge!
We'll be joining the Blades October 24 for an exciting Halloween show! This will be the first opportunity to pick up our new CD, Stoke the Boilers, and other cool swag like logo stickers and Magic Elixir bottles!
Join the facebook event!
Monkey Wrench's Anniversary Bash!
Join us along with A Ship Called Revenge and fire spinners Sinful Sideshow to celebrate Monkey Wrench Clothing's one year anniversary at their current location!
Come out Aug 15 for a fashionable Steampunk Party!
Back at Monkey Wrench Clothing!
We're back for a second round at Monkey Wrench on Saturday April 4th! Go check out Monkey Wrench's Page and add yourself to the Event!
Join us on Sunday February 22 for your favorite steampunk musical experience surrounded by real 1800s era artifacts from a sunken steam ship! We're looking forward to working with the fantastic folks there!
Music starts at 12:30!
Join the Facebook event here!
_________________________________________________________
Debut Concert – October 25 @ Monkey Wrench Clothing in Westport 2-4 pm
Cary Elwes Book Signing – October 19 @ Unity Temple on the Plaza